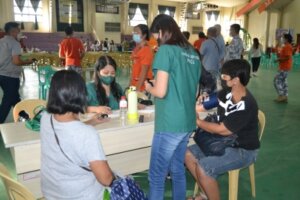 Some 1500 residents from Malvar, Batangas received free healthcare services during the medical and dental mission conducted by Chinese General Hospital and Medical Center (CGHMC) earlier this month.
The joint community outreach program was held just last October 2, 2022 at the Malvar Cultural Center, Brgy. Poblacion, in cooperation with the Philippine Chinese Charitable Association, Inc. (PCCAI), the Philippine Coast Guard and Auxiliary Executive Squadron and its Officers' Wives Association.
Medicines were sponsored by EURO-MED LABORATORIES PHIL., INC. and UNILAB, Inc.
The event, which ran from 8 am to 12 pm, adds to the countless number of beneficiaries of CGHMC's medical and dental missions nationwide, which is part of the hospital's unyielding commitment in giving healthcare assistance to those who need it most.
These projects are often organized in poor communities and calamity-stricken areas. With a population of over 40,000, the municipality of Malvar is said to be one of the underserved or overlooked areas in the province in terms of medical consultations, particularly its San Juan community.
For their part, the local government expressed much gratitude and enthusiasm and later also helped distribute gift-packs, canned goods and other giveaways following the mission.