The Chinese General Hospital and Medical Center Breast Center is a specialist center composed of highly skilled breast surgeons, radiologists, oncologists, and nurses. We provide the highest quality of care to patients with breast problems. Our comprehensive breast service ranges from screening, assessment, and diagnosis to treatment of all breast conditions.
Here at the Chinese General Hospital Medical Center Breast Center, we have state-of-the-art treatment options using up-to-date surgical techniques and advanced equipment such as oncoplastic breast surgery, sentinel lymph node biopsy, and vacuum-assisted biopsy. Our commitment to caring for you is our number one priority, tailoring your treatment according to your specific needs.
We are the best hospital in Metro Manila to provide the best treatment options for people with breast conditions.
Services
Our Breast Center is fully equipped with the latest state-of-the-art equipment so we can provide our patients with everything they need in one place. Our breast cancer specialists are certified and well-trained to operate these apparatuses, assess, and provide recommendations.
We have activities that promote breast cancer awareness, breast screening campaigns, and breast cancer support for the community.
We offer the following services:
Breast Screening and Diagnosis (partner with Radiology)

Breast Ultrasound
Mammogram
Breast MRI

Breast Treatment and Surgery​​

Biopsy

Fine needle aspiration biopsy
Core needle biopsy (Ultrasound/Mammogram guided and Free-hand)
Incision Biopsy
Vacuum Assisted Biopsy
Microdochectomy/Total duct excision
Sentinel Lymph Node Biopsy

Breast Cancer Surgery

Needle localization technique (partner with Radiology)

Ultrasound guided
Mammogram guided

Breast Conservation Surgery

Lumpectomy/Partial mastectomy
Mastectomy
Sentinel Lymph Node Biopsy
Axillary Lymph Node Dissection

Breast Reconstruction (partner with Plastic Surgery)
Fertility Preservation (partner with OB-GYN)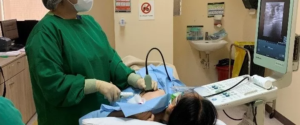 ---
Contact Information
Contact Nos.: (02) 8711-4141 loc. 255/256 (Mammogram) loc. 531 (Ultrasound)