RESIDENCY TRAINING PROGRAM IN ANESTHESIOLOGY
In 2019, the CGHMC Department of Anesthesiology embraced the challenge of producing globally competitive young anesthesiologists who share the passion to become leaders and innovators in our field. Young doctors who will strive to make their mark by continuing a legacy of excellence in anesthesia care for patients of all ages, for different kinds of procedures under varying conditions.
From then on, we have established a fully accredited, competitive Anesthesia Residency Training Program and we continue to train our residents holistically to grow in their knowledge and skills and develop the right attitudes in their work, interactions and life in general.
OBJECTIVES
1-To spearhead an accredited and competitive anesthesia residency training program in CGHMC in line with the mission and vision of the hospital and the Department of Anesthesiology
2-To be recognized as the only institution in the Philippines who equips Anesthesiology residents to provide SPECIAL (Safe, Pleasant, Excellent, Comprehensive, Individualized, Advanced, Learning-enriched) anesthesia care to all patients at par with the ASEAN standards
WHY SHOULD YOU TRAIN WITH CGHMC ANESTHESIA?
Has more than 10,000 cases per year
A melting pot of consultants with different training background and with varying subspecialties
Possess updated learning materials and state-of –the art facilities
Conduct regular didactic activities and conferences such as journal club, clinical case conference, and audits
Organize and hold workshops in research, airway management, peripheral nerve block, management of critical events
Exposure to critical care medicine, acute and chronic pain management, peripheral nerve block and the science of cardiopulmonary resuscitation
Opportunity for international rotation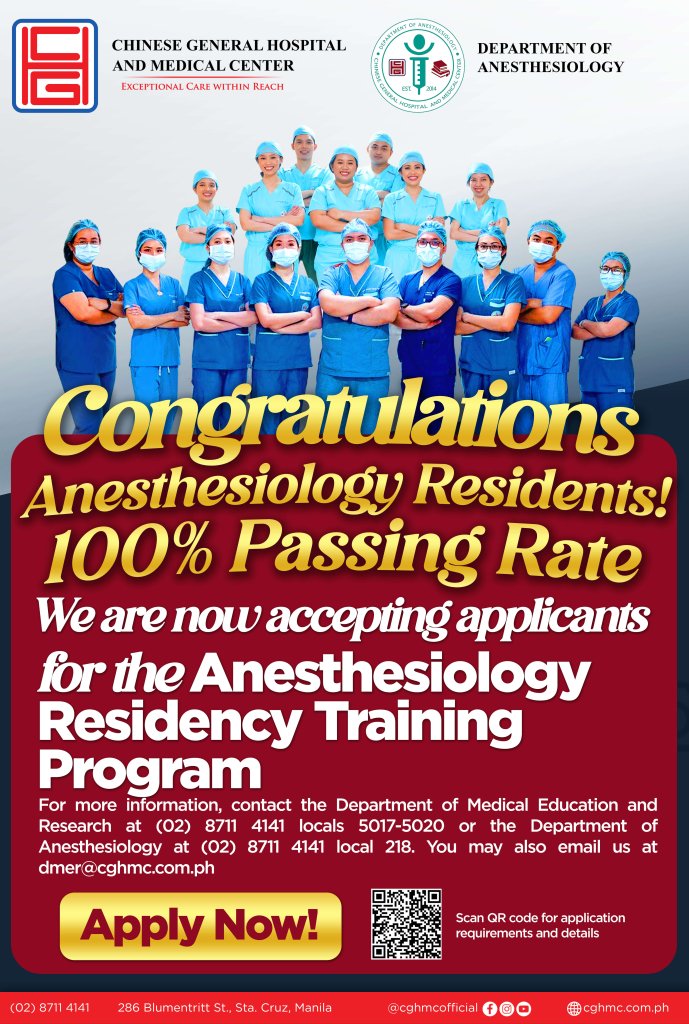 Contact Information:
Location: Department of Medical Education and Research (DMER)
Mobile: 8711-4141 loc. 5017
Email: dmer@cghmc.com.ph
Contact person: Ms. Jerlyn Mesina Vergara