Message of Hope from the President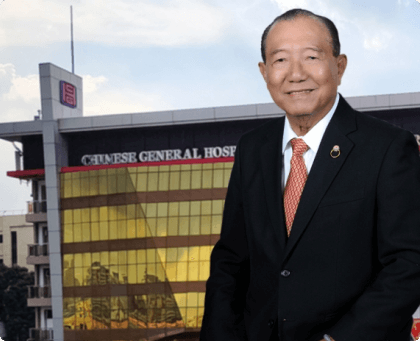 As we all try to shift towards the new normal, it has become clear that medical science will continue to evolve rapidly and change the landscape of healthcare forever, if it has not yet already. CGHMC has always been formidable in adapting to any situation and exemplify the spirit of both innovation and tradition.
Like we always have, CGHMC continues to bring forth efficiency and new technology at affordable costs – all for the betterment in the quality of our services, which our hospital is best known for.
This is a testament to CGHMC's management, physicians, and staff, whose culture of hard work and perseverance makes them go above and beyond in ensuring that those seeking medical treatment are well taken cared of.
These traits have been our recipe for success the past 130 years and also our best bet to remain at the forefront of top-tier medical institutions in the country.
We hope you appreciate this newly updated website of CGHMC. Stay tuned as we are constantly adding more features and guides to make all our services even more accessible to you.
Our institution has always been about giving back to both the Filipino and Chinese-Filipino communities, and hope to recover much of the goodwill the pandemic had lost. It is our social responsibility, our purpose.
I think it's a prevailing message to seek inspiration from as we look ahead to the future, working hand in hand to uplift and strengthen our hospital to serve people better, and to serve the nation better.