The Center for Diabetes, Obesity, Thyroid and Endocrine Diseases (DOTE) was established in 2014. It was previously known as the Diabetes and Endocrine Center (DEC). The center brings together competent and compassionate endocrinologists, diabetes nurse educators, and dietitians dedicated to providing comprehensive diabetes care. Our goal is to enhance diabetes education to reinforce the management of metabolic diseases through the self-empowerment of patients.
Here at the Center for DOTE, we provide our patients with more than just basic services but also extend holistic care to their families as well.
If you or a family member is referred to our unit, in line with our goal of reinforcing the management of metabolic diseases through self-empowerment of our patients, our medical professionals provide both the patient and their families with counseling and education about diabetes, proper nutrition, exercise, and weight management.
The center is currently augmenting its services to provide comprehensive endocrine care for our patients. Soon, the center will also provide Thyroid and General Endocrinology packages. We are committed to providing the highest quality of diabetes, endocrine, and obesity care. We are looking forward to serving you.
Services Offered
Diabetes Care Package
| | |
| --- | --- |
| Module 1 | Diabetes Overview |
| Module 2 | Insulin Administration Technique and Capillary Blood Glucose Monitoring |
| Module 3 | Medical Nutrition Therapy |
Obesity Management Package
| Weight Management Program | |
| --- | --- |
| Module 1 | Assessment and Introduction to Obesity Management and Complications of Obesity |
| Module 2 | Medical Nutrition Therapy |
| Module 3 | Physical Activity and Behavior Modification Strategies |
| Module 4 | Weight loss Progress Tracker |
Bariatric Care Package
Consultation with Bariatric Care Team
Preoperative and post-operative lifestyle and support program
Preoperative and post-operative comprehensive laboratory and ancillary evaluation
Keeping track of progress
Thyroid Packageon
Ultrasound-guided thyroid biopsy
Our center provides the highest quality of comprehensive and personalized care with the ultimate goal of maintaining your health.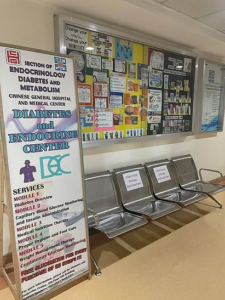 ---
Contact Information
Location: 5th Floor, Main Building
Contact No.: (02) 8711 4141 local 537 and 536